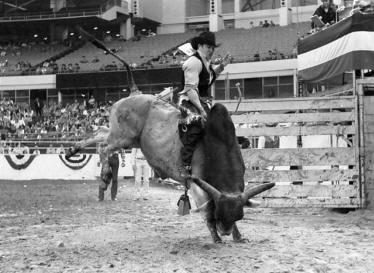 Muhammad Ali, Joe Louis and Rocky Marciano never had a punch like the bull, Cowtown, owned by rodeo stock contractor, Howard Harris. Cowtown in four jumps ended a never equaled record established in 1968 by George Paul. Oklahoma City , Oklahoma , was the setting for the tenth annual National Finals Rodeo and Paul , Del Rio, Texas , could have won the Rodeo Cowboys Association bull riding world championship sitting in the stands. He had such a commanding lead for the world championship at the end of the season he didn't need to go to the "World Series" of professional rodeo, the NFR. But not competing did not occur to him.
Born March 5, 1947, George Paul grew up on the San Miguel Ranch in Mexico riding and living the life of a ranch kid. From an early age, if it bucked, George would try and ride it. Perhaps destiny brought Stoney Burke, a fictional rodeo champion based on the life of rodeo great Casey Tibbs, into George's life through the medium of television but, that meeting between George and Stoney changed George's life forever. From that television meeting, George was determined to never be anything other than a world champion cowboy and, at the age of 14 he began his quest. Joining the American Junior Rodeo Association, George would win world championships in bareback bronc riding and the all-around 1966 and bull riding in 1965 before moving into the professional ranks.
Jim Shoulders, the sixteen-time world champion cowboy, held a rodeo school and George attended. He counted the experience as one of the most beneficial in his rodeo career and in 1966 he joined the Rodeo Cowboys Association. 1966 was the year he got his feet wet in professional rodeo competition where he learned how to enter professional contests, which rodeos were the best to enter and how to travel to rodeos in the United States and Canada.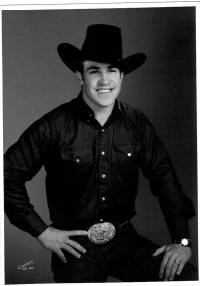 In 1967 George started the year like a man possessed and refined his skills at entering rodeos coupled with how to rodeo at three rodeos in three different states in one day. Ground travel by car or pickup took time but eagles soared. Being a pilot, George knew if he flew his own plane he could enter more rodeos and have the opportunity to win more money so George flew to most rodeos. 1967 was the year that rodeo veterans realized that "the kid from Del Rio" was no flash in the pan. His first full year on the professional rodeo circuit George qualified for the National Finals Rodeo where only the best fifteen in their event are invited to compete. At the ninth National Finals Rodeo, George rode seven of nine bulls, was ranked as the fourth best bull rider in the world and the thirteenth best all-around cowboy in professional rodeo and all at the ripe old age of 20.
1968 was a pivotal point of his career. Traveling in his twin engine Bonanza, George stormed across the United States and Canada entering 150 rodeos and traveling 125,000 miles. No rodeo was too big or too small as long as he could get "drawn up" right (entered) in his two events, bareback bronc riding and bull riding. If he could only compete in one event at a rodeo because of scheduling, he entered just the bull riding. Something began to happen in mid-season 1968 and no matter what he drew in the bull riding, no matter how hard they bucked, no matter how rank they were, the bulls could not dislodge George Paul. It was as if he had superglue on his Wranglers.
Winning and placing at the greatest percentage of rodeos he entered, George went to the 1968 NFR with the RCA bull riding world championship locked up. That was not good enough for George because entering the 1968 NFR George had done what no other bull rider had ever done.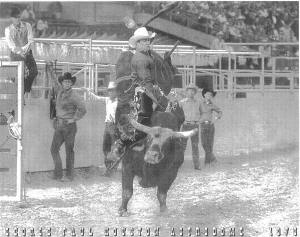 George had successfully ridden 79 bulls in a row. That was not like completing 79 passes in a row, getting 79 home runs in a row or, getting 79 strike outs in a row. It was like getting 79 knockouts in a row. Bulls will hurt you, throw you into the hard packed dirt of the arena, and then try and stomp or gore you to death. They are not just animals, they are combatants, and George rode for eight seconds, 79 of the toughest bulls professional rodeo had to offer in a row. That feat has never been duplicated, nor even come close to.

The first bull of the 1968 National Finals Rodeo, Cowtown, ended George's string of successful rides at 79 (world record) however, he went on to successfully ride the remaining eight bulls which also tied the record of the NFR, and won not only a world championship but, the NFR average as well. To win that average he had to ride bulls such as Jim Shoulder's Typhoon, unridden in three years; Big Bend's Little Smoke and Kirby's # 1, both unridden in 1968; Kinney Brother's #25 , ridden once in 16 attempts and, Steiner's horrible #107, ridden once in six years. The last bull George had at the 1968 NFR was Butler Brothers # 27, a bull so fierce that he had to be loaded in a chute with a chain around his horns a drug into the chute with a tractor.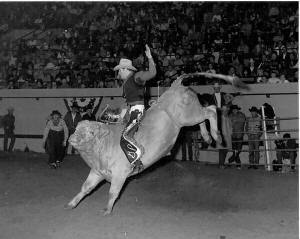 George conquered the bull in short order and scored 87 points, the highest marked ride at the 1968 NFR. Bull riders then would tell you a world championship in bull riding is the most prestigious title you can win. The second is the National Finals Rodeo.
In 1969 George elected to stay close to home in order to help with his family's one million acre ranch in Mexico but, in 1970, the lure of the rodeo road called once again and he answered that call. On August 1, 1970, near the southwestern Wyoming town of Kemmerer, a rancher discovered the wreckage of George's plane 300 feet short of the top of Commissary Ridge. George had been traveling between rodeos when the fateful crash occurred.
The airplane crash that took the life of George Paul ended what could have been the greatest bull riding career in all of professional rodeo. Don Gay, eight-time world champion bull rider said the greatest natural bull rider of all time was George Paul. George is gone but the things he stood for…the things he is remembered for, death could never kill. His legacy is the formation of the multi-million dollar sport of professional bull riding as a stand alone sport.
This narrative is constructed from the memories and memorabilia of Georgia, Bobby, Lee and Betty Paul, George's mother, brothers and sister and the research of author John Ludlum.
Written by John Ludlum with profound respect for the life and accomplishments of George Paul and his family who produce the longest, continuous stand alone bull riding in the world, the George Paul Memorial Bull Riding. (2009)
Narrative constructed from the memories and memorabilia of Georgia, Bobby, Lee and Betty Paul, George's mother, brothers and sister and the research of author John Ludlum. All rights reserved.
PRCA Card # 10653
Titles and Honors:
1968 RCA World Champion Bull Rider; National Finals Bull Riding Average Winner and World Record Holder of successfully riding 79 bulls in a row.
Major Rodeos Won:
1968 NFR Bull Riding Average Winner
Salinas California All-Around Champion 1967
Vernon Texas BR 1968
St Paul Oregon BR 1968
Sacramento CA BR 1968
Omaha NB BR 1968
San Francisco BR 1968
Nampa ID BR 1967
Deadwood SD BR 1967
St Louis MO Br and BB 1967
And many others
Dates of birth, death and other bio information see the above.
No spouse, no children, parents name Georgia Miers and Robert Paul.
Rodeo organizations: American Junior Rodeo Association (AJRA)
Rodeo Cowboys Association (RCA now PRCA)